Working in true partnership, our team of CIM Chartered Marketers deploy their award-winning experience in marketing, digital marketing, social media, content and conversion marketing to enable you to attract and retain your ideal clients.
We can work on a consultative, project-specific or retainer basis. Many of our clients have initially worked with us on a project and then moved to an ongoing retainer arrangement due to our unique offer and added value, in effect becoming part of their team as an outsourced multidisciplinary marketing department. 
Given our industry experience and background, we understand our clients' target audiences giving you a head start rather than having to explain everything from scratch to your agency. 
Award Winning Agency
WHY CHOOSE US?
Cal Partners won the North East Marketing Awards 2018, Marketing Agency of the Year (Under 20 employees) Category.  
The Judges commented:  
One agency in particular stood out to the judges – Cal Partners. Challenging the norm of marketing activities in a highly traditional sector, they showed effective and efficient deployment of limited client budgets and highly creative use of resources.
Their commitment to the professional development of staff is admirable and the personal qualifications of the team reflect the desire to evidence professional credibility. A truly different and highly successful business, this agency is an impressive award winner.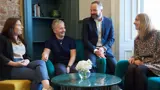 Mission
Our mission as a professional services marketing agency is to help our clients achieve their business objectives by providing innovative and effective marketing strategies. We strive to be a trusted partner to our clients, delivering exceptional service and results-driven solutions that exceed expectations.
With a deep understanding of our client's target markets, we strive to build long-term relationships and help them achieve sustainable growth. Our commitment to transparency, accountability, and continuous improvement ensures that we always operate with the highest standards of professionalism and ethics.
Vision
To revolutionise professional services marketing by providing innovative solutions that empower firms to build strong and recognisable brands whilst minimising time and financial burden. Our aim is to be the go-to marketing partner for professional services.
Values
We created a business for us, and integral to that is we treat our clients and partners as we'd expect to be treated. 
Client Success: We prioritise our clients' needs and strive to deliver exceptional service that exceeds their expectations.

Accountability and Excellence: We hold ourselves accountable to the highest standards of quality and constantly seek to improve our work and processes.

Passion and Purpose: We are passionate about what we do and find joy in our work, driven by a sense of purpose and commitment to our clients and colleagues.

Continuous Learning: We value ongoing learning and development and actively seek to improve our skills and knowledge.

Work-Life Balance: We support and value our team's well-being by promoting flexibility and work-life integration.

Collaborative Culture: We foster a culture of collaboration and teamwork, where peers support one another and work towards common goals.

Autonomy and Empowerment: We empower our team members to take ownership of their work and make decisions that drive our collective success.

Diversity, Equity, and Inclusion: We are committed to creating a diverse and inclusive workplace where every individual is valued and respected.
Marketing for Professional Services
Cal Partners
The go-to strategic marketing partner for ambitious professional services